The lovely Mike is off for a week & a bit, which considering he has two weeks off for Christmas each year is a bit much really. He has worked a total of three days since his Christmas break. He let slip the other day while on the phone to the insurance company who were trying to arrange for Mikes car to be picked up after the mishap at the hospital prior to Christmas.
The reason for his nearly a week off was his five day break which he gets every so often plus he has three days holiday left & thought he would lump it all together. I'm sure I'm in the wrong job.
Naturally he is well rested after his time off at Christmas & I do have lots of messy jobs that need doing in the garden.
Today he has been taking down the little greenhouse so he can make a start to prepare the base for my chicken run. I am so excited, I mean I have had to wait about six years after all.
The run I want is about £700 & as I'm a bit of a scrooge & I wouldn't pay that much & Mike is very good at things like that he is building me one. Lucky me. I have looked at so many chicken houses & while I would love a wooden one to paint a pretty colour, I know I wont be happy unless it is a plastic one. More for ease of cleaning mind & they dry quicker in the winter. Also, because I have a small garden the run will be fixed on a base of hardwood chippings. I just need to find a local supplier.
I cant decide on the
Eglu Go
or the
Eglu Classic,
apart from the shape I don't think there is a lot of difference. They are both said to be suitable for three medium sized birds which is the amount I want. Eglu go is my current choice as they have a new one in purple. I have a couple of months to decide as I don't want the chickens to arrive in the colder months, I'm thinking the end of April beginning on May. The weather may be a little more convenient by then!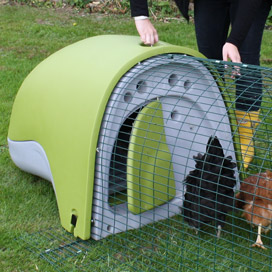 Another job on the agenda unknown to Mike is I want the front garden digging over ready for my edible hedge delivery. Unlucky Mike.
Enjoy your day